Hello HC fans, Happy Monday! We've got some fantastic news to share with you. If any of you have been on our social media sites recently, you'll have seen work in progress (wip) shots of 100 Dog Bandanas, in readiness for Redpaw Pet Supplies Dogs Day Out; which was yesterday (25th September).
We found out about the Redpaw Dogs Day Out event, when a customer of ours, tagged us in the poster for the event on Twitter. We soon contacted Sammie of Redpaw Pet Supplies, and got speaking about how we could help out with the event.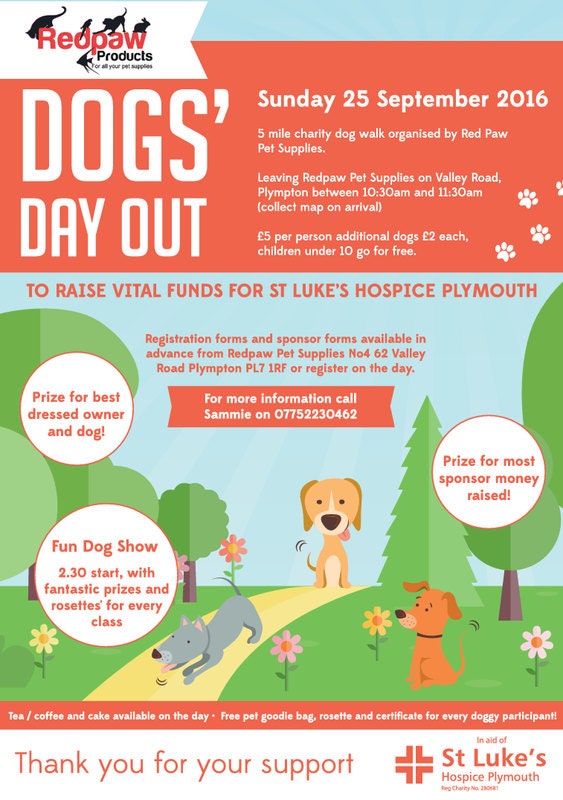 Sammie showed a big interested in our Dog Bandanas. So we started to discuss what options were available. As we wanted to help out with the event we did donate  some of the bandanas, however Sammie did buy a bulk amount of them, to sell on the day! Very kindly Sammie allowed us to add a contact card with our details on to the Dog Bandanas, and yesterday we had some of the visitors to the event contact us via Facebook.
One visitor said " Got one of these lovely bandanas from the event that Sammie organised. Will be ordering some more in the future. Finally some bandanas at a nice size." And this is the handsome Taro, who's owners said the lovely comment above.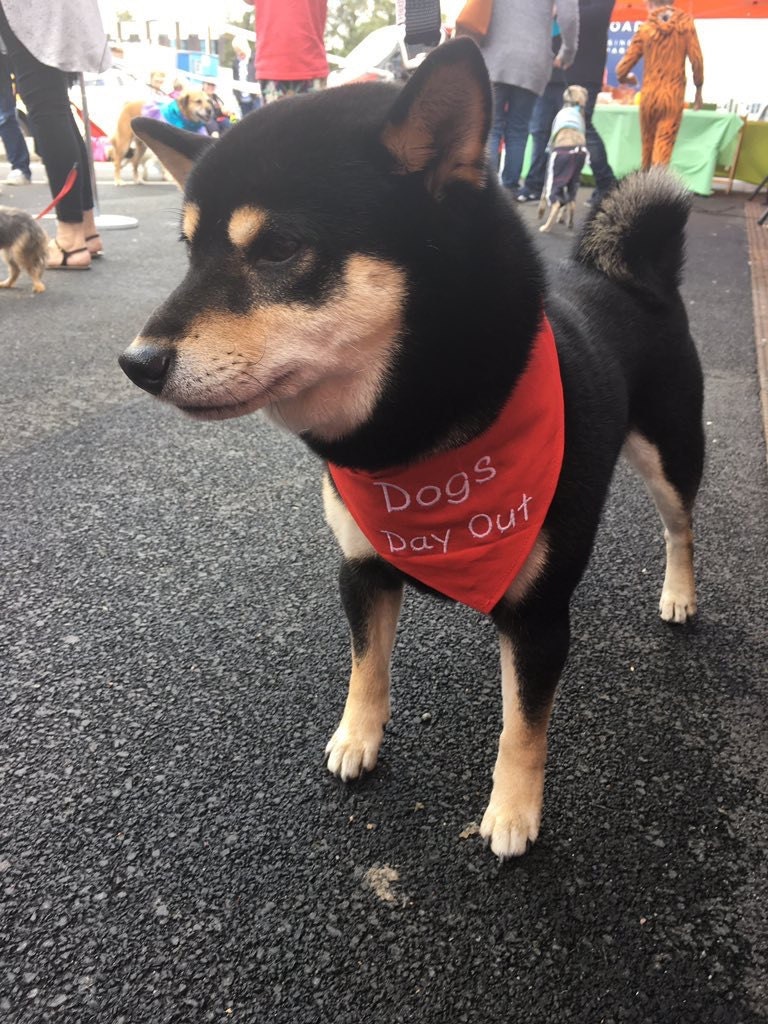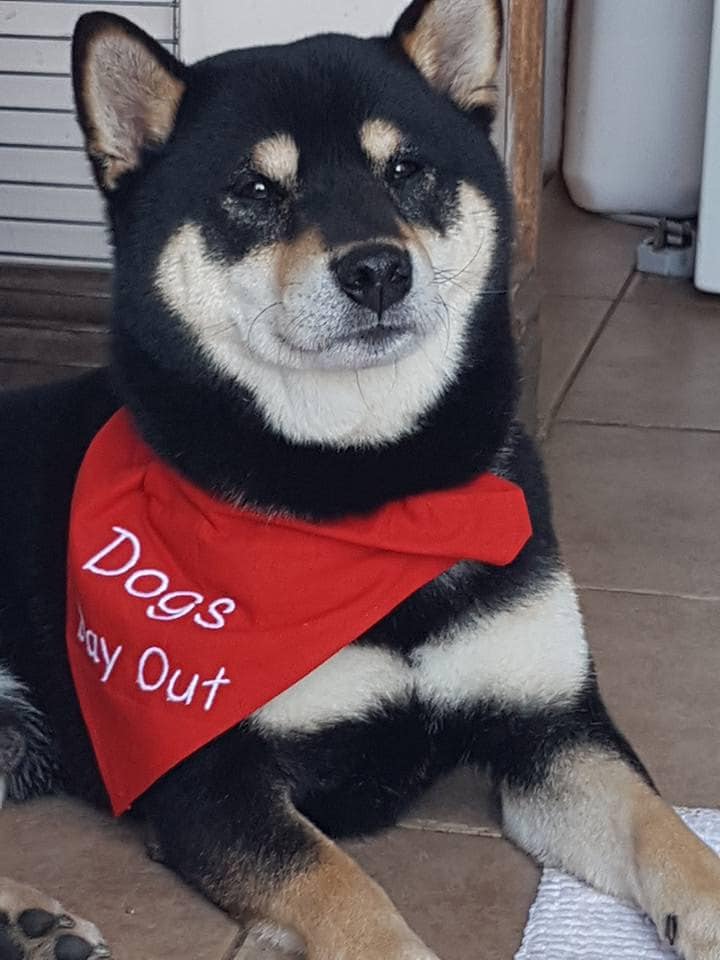 We were very pleased with this lovely comment, as we worked extremely hard on the 100 bandanas.
It took us approximately 2 weeks from start to finish, to make all of the 100 Dog Bandanas. This involved working out the size of the bandanas, then cutting enough fabric for the bandanas. 50 of the bandanas were Embroidered with 'Dogs Day Out' onto them, and this added to the time, as each of these bandanas, had to be measured once they had been put into the embroidery hoop, to check that they were of an equal size on each side. Then we could embroider onto them! The other 50 bandanas were slightly easier to do, as we had to cut the fabric out then sew the seams, so no embroidery on those!  
Below you will be able to see some close ups of the bandanas we made.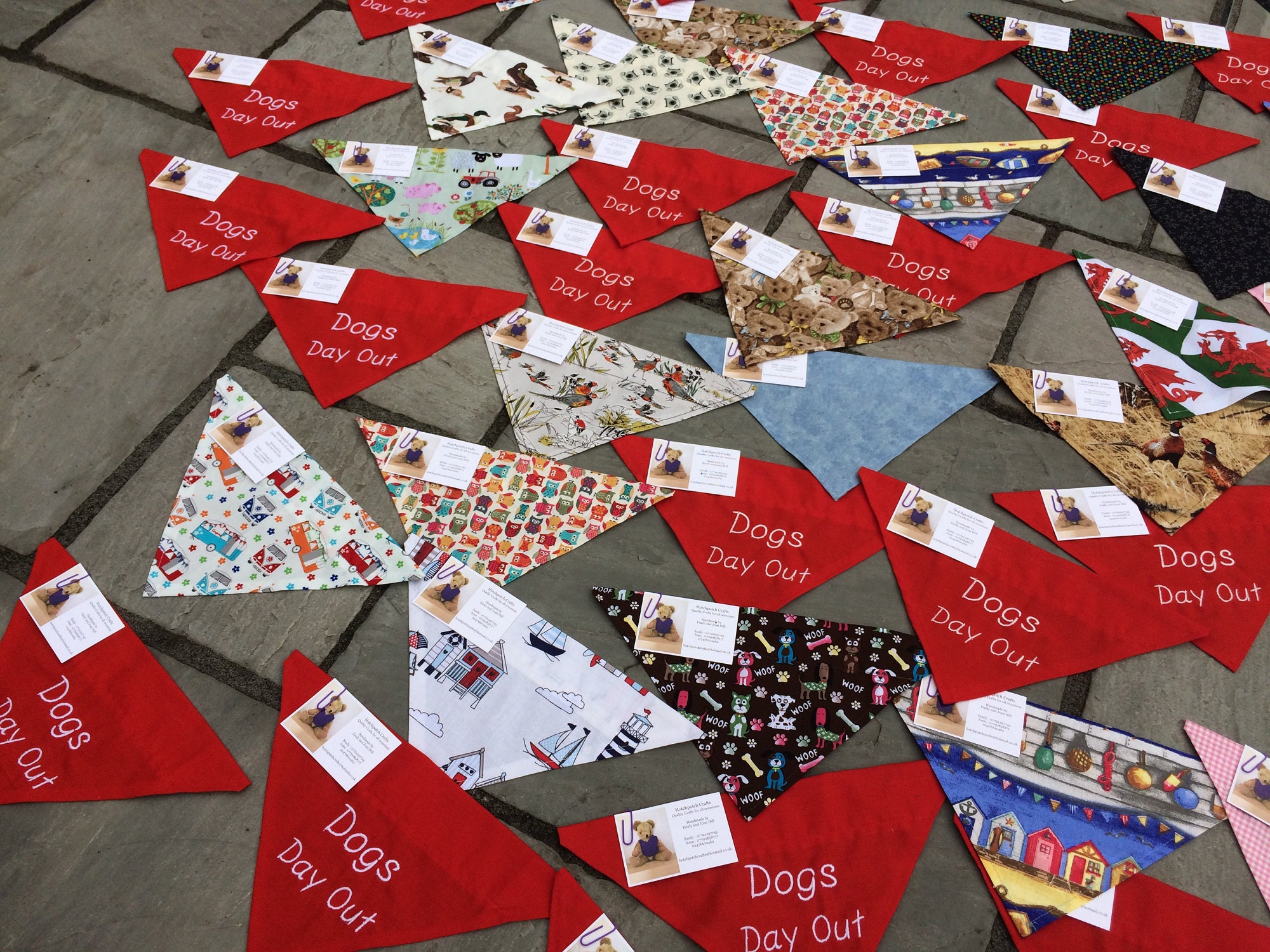 We used a big selection of patterned and plain fabrics for the non-embroidered dog bandanas.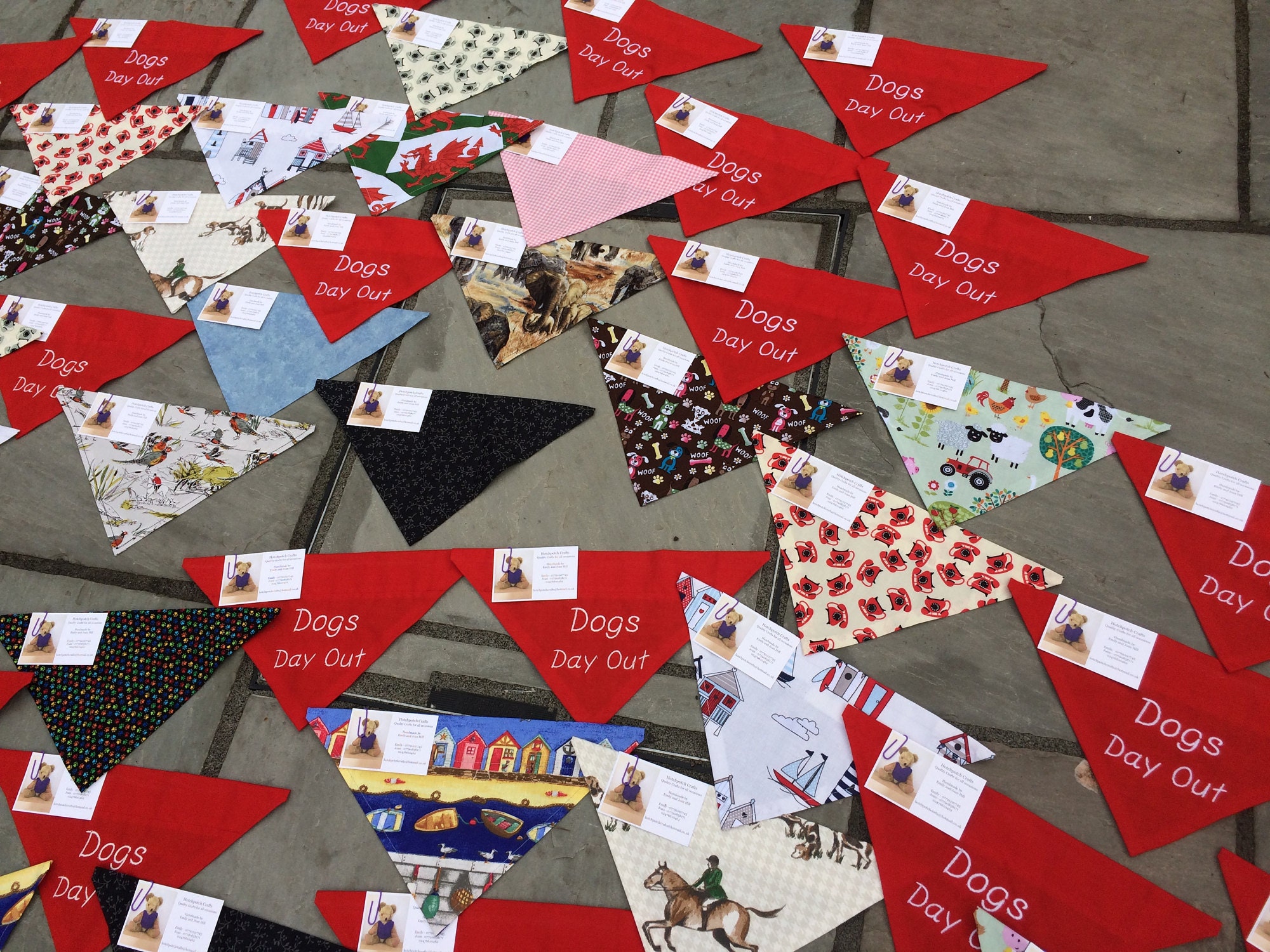 We have been lucky enough to receive some beautiful photos of some of the dogs that attended the event yesterday, receiving photos like these, really mean a lot to us. So if you've got any, send them to us, we'd LOVE to see them! Okay so here's some of the beautiful dogs from yesterday;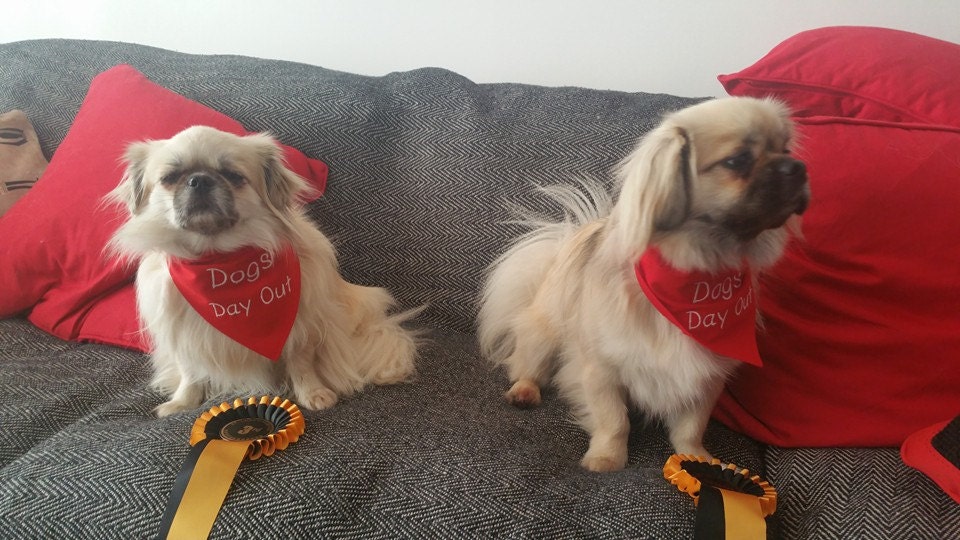 These little two are Ellie (on the left) and Dex (on the right) with their HC Dogs Day Out Bandanas and Rosettes from yesterday. How cute?!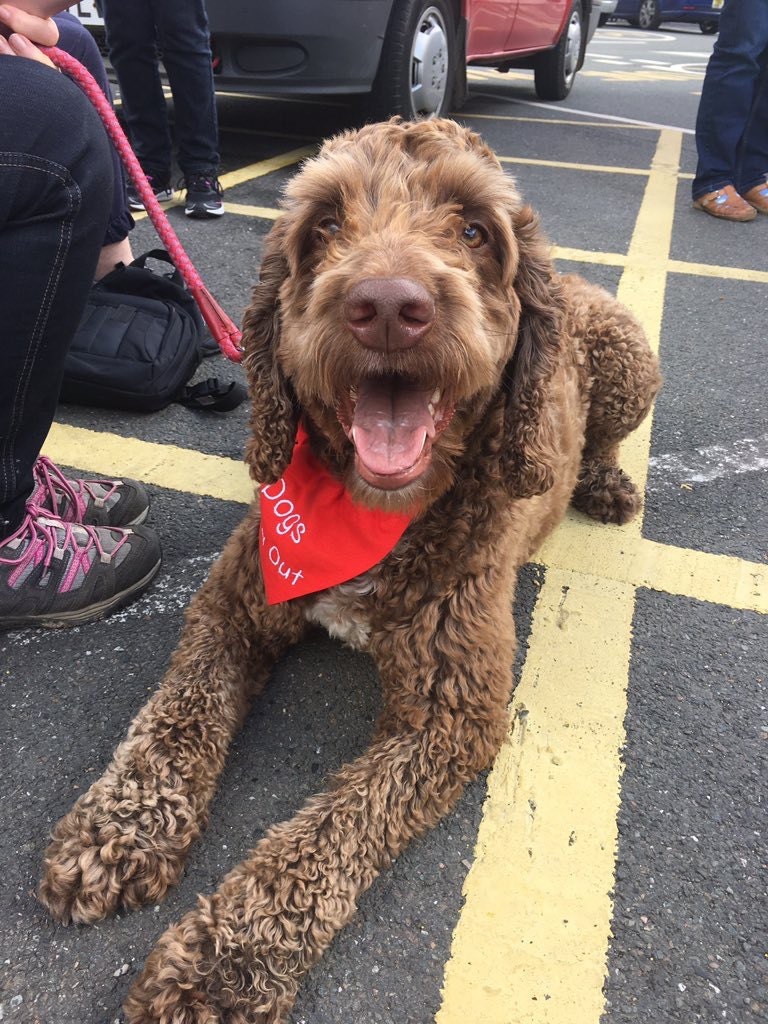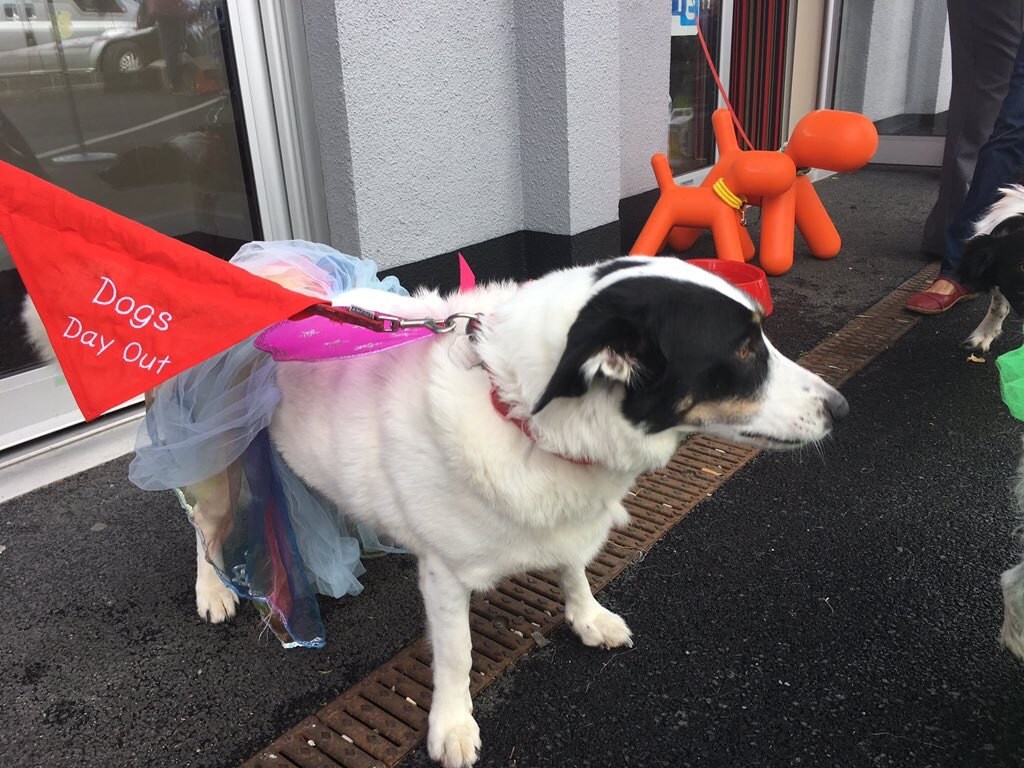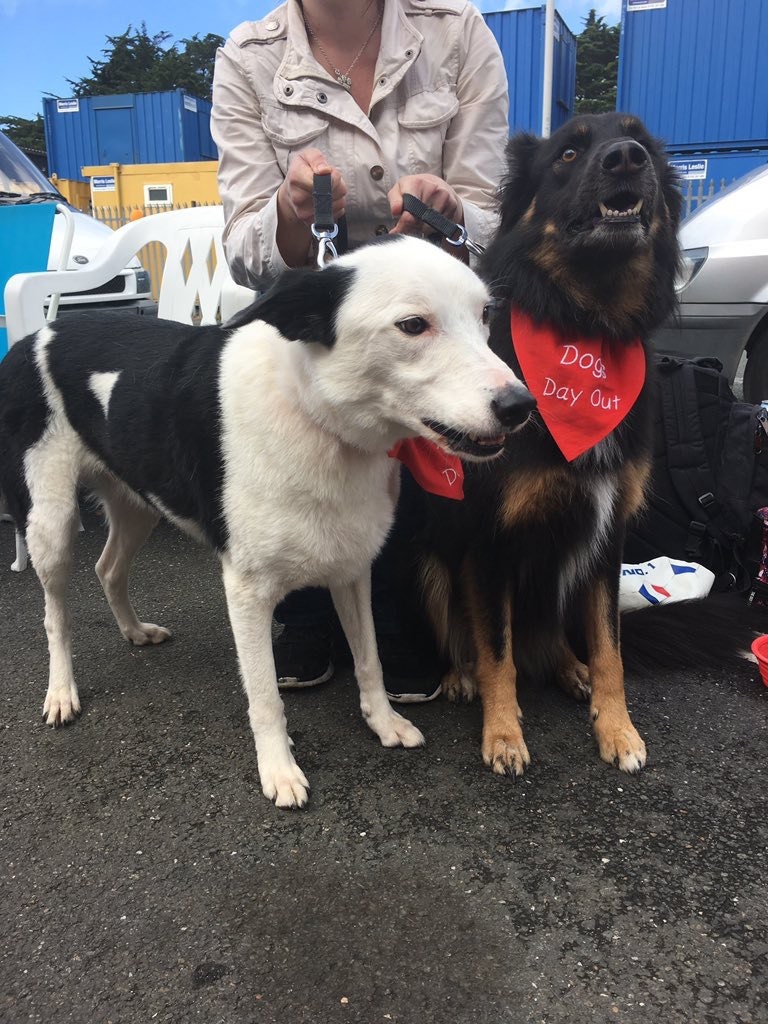 Next up we've got Baloo, his mummy Jaycee is the lady that tagged us in the event poster on Twitter. Jaycee and Baloo do reviews for various pet products, and have even done a review for us. Baloo was treated to a Bespoke Dog Blanket which included 4 beautiful photos of him and his name. Check out their blog here -  https://baloosblog.wordpress.com/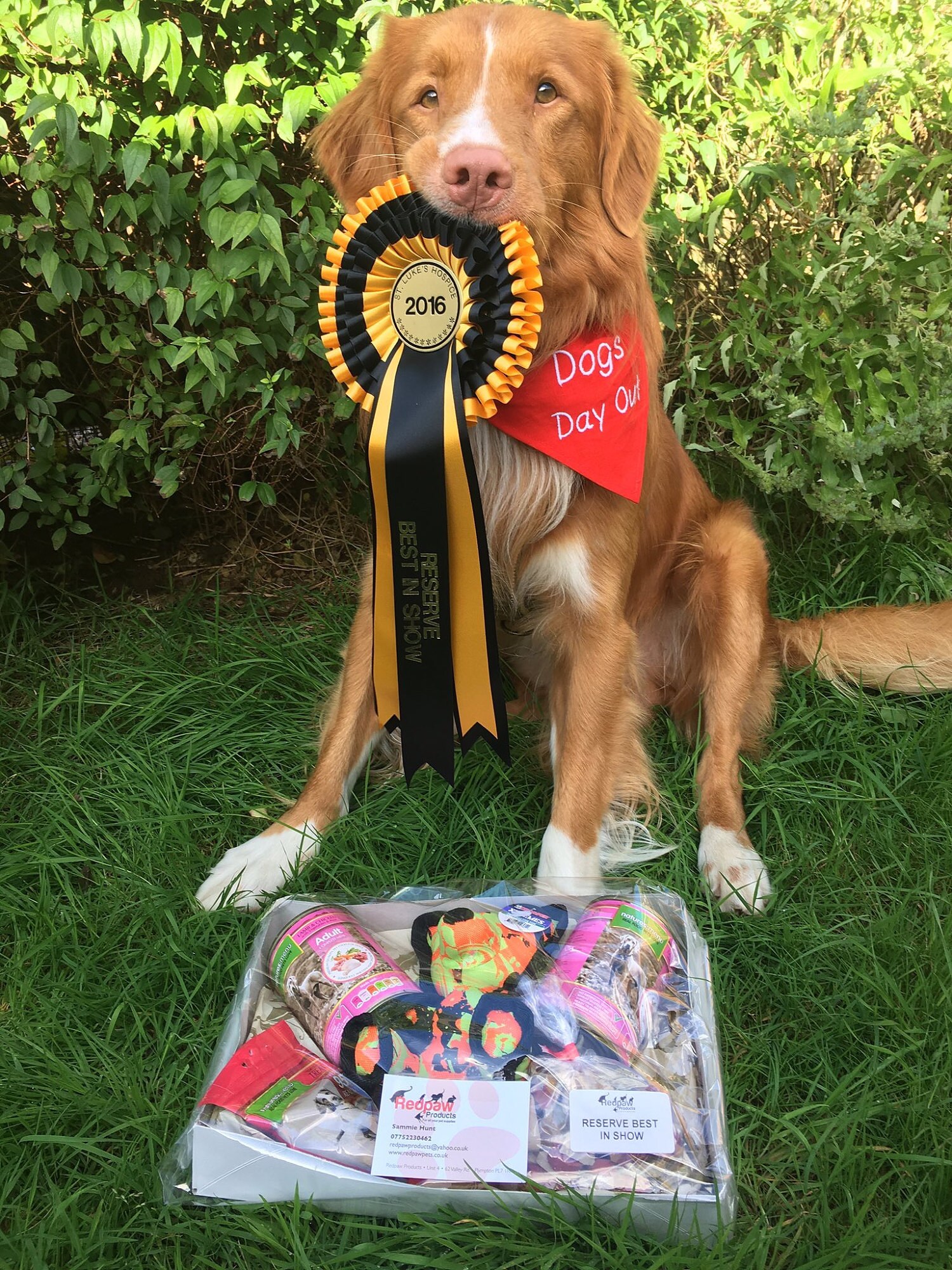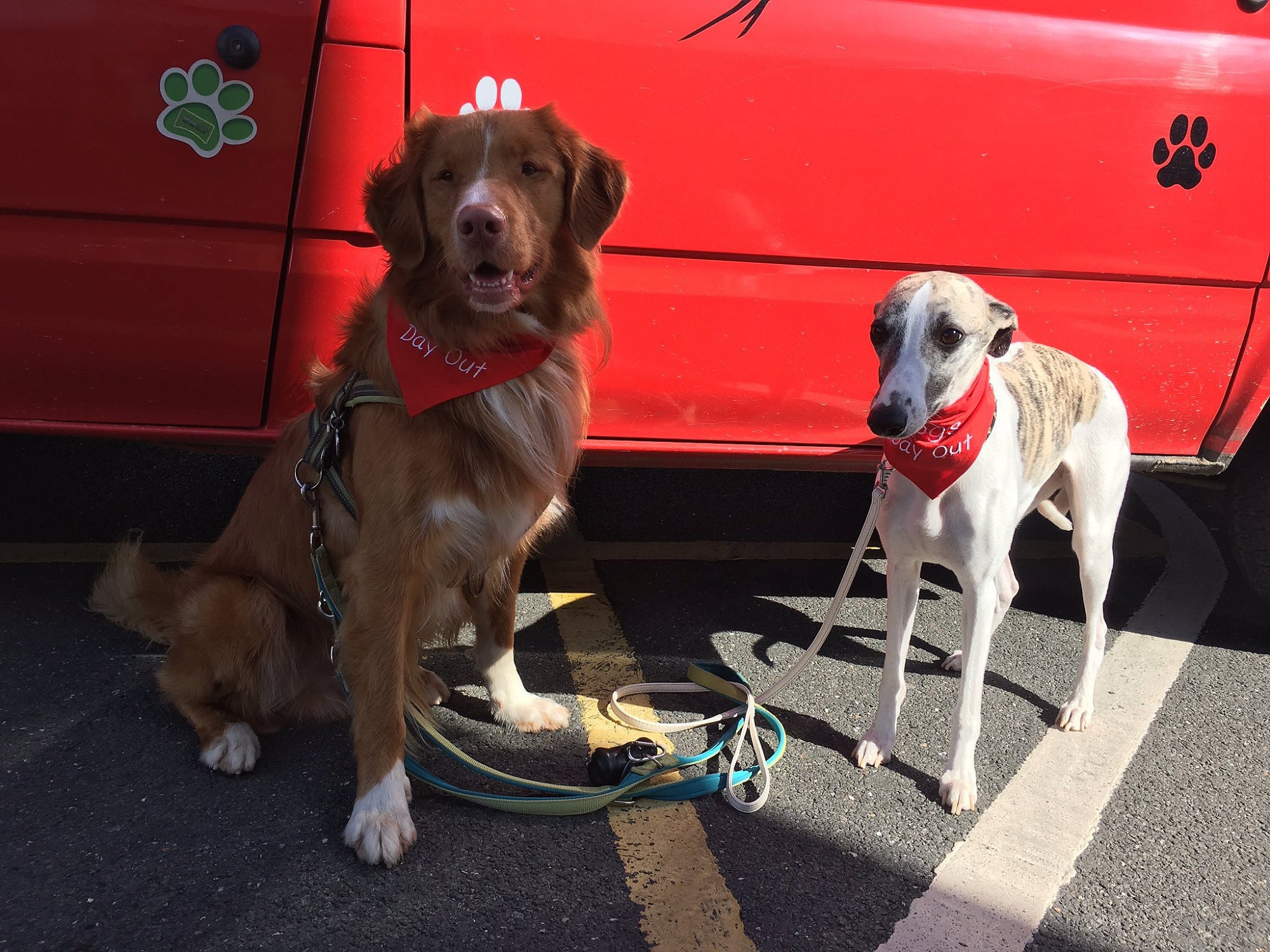 This is Baloo (on the left) and Lili (on the right - one of Sammie's lovely dogs).
Here are some more of the beautiful dogs from yesterday;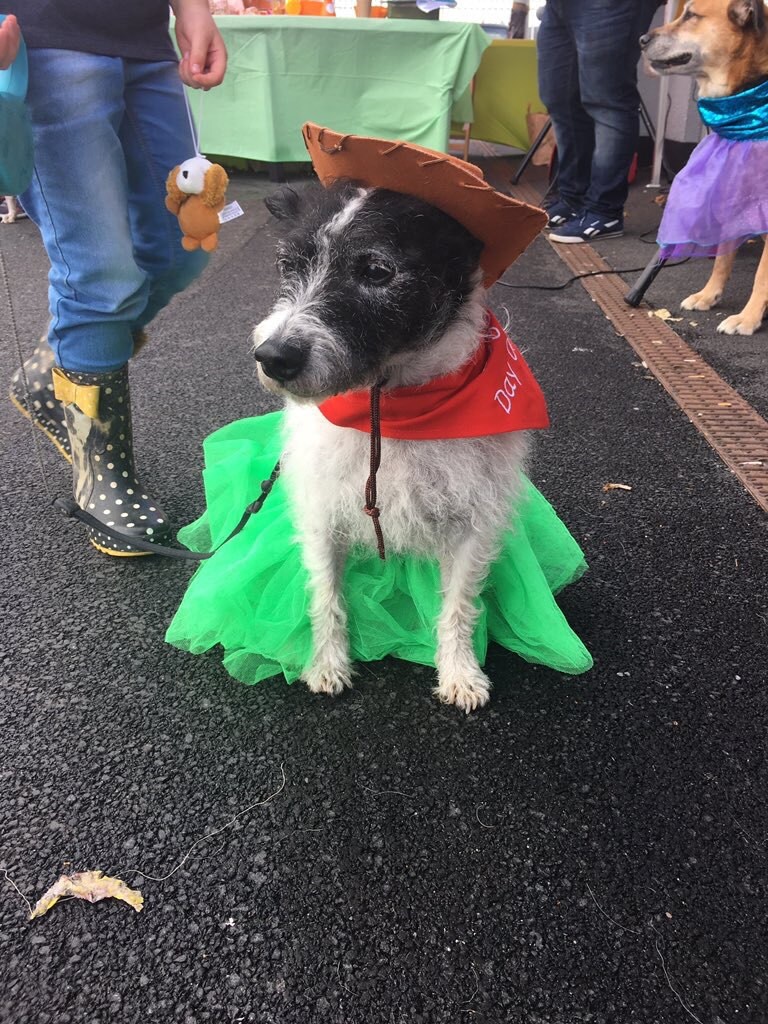 We absloutely LOVE this little pooch... Doesn't he/she look fantastic?! A great effort on the fancy dress too!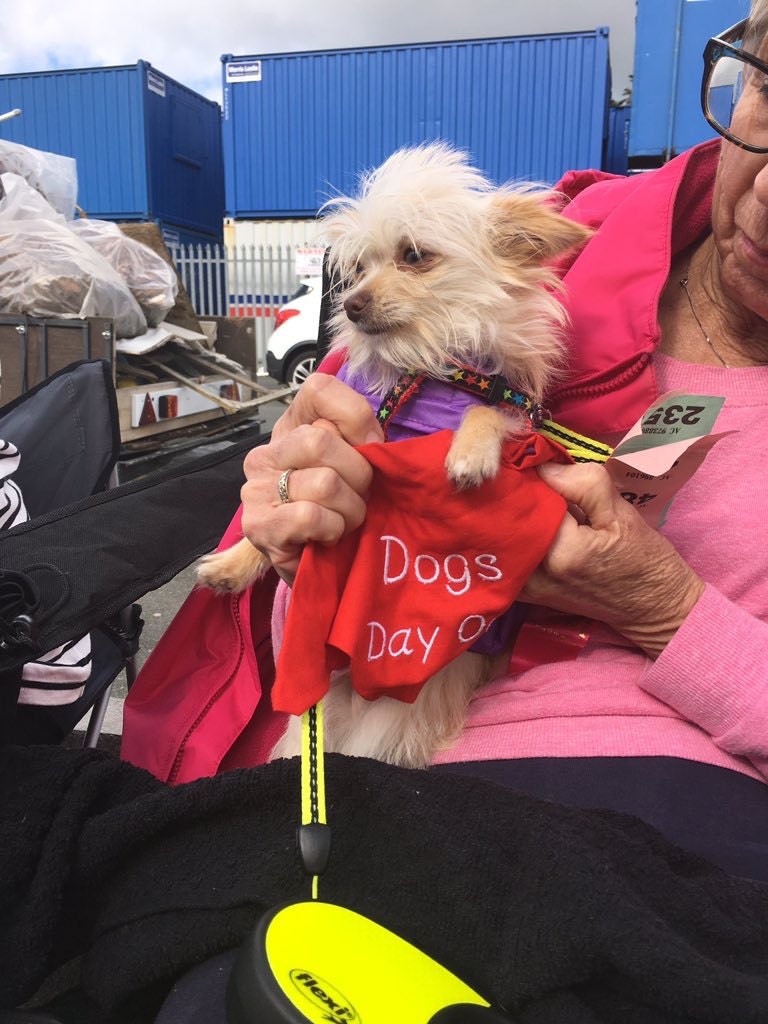 The bandanas we're bigger than some of the dogs... Don't they look so adorable.
Finally we have the lovely Rookie who is a Large Munsterlander (on the right) & Teak the Golden Retriever (on the left).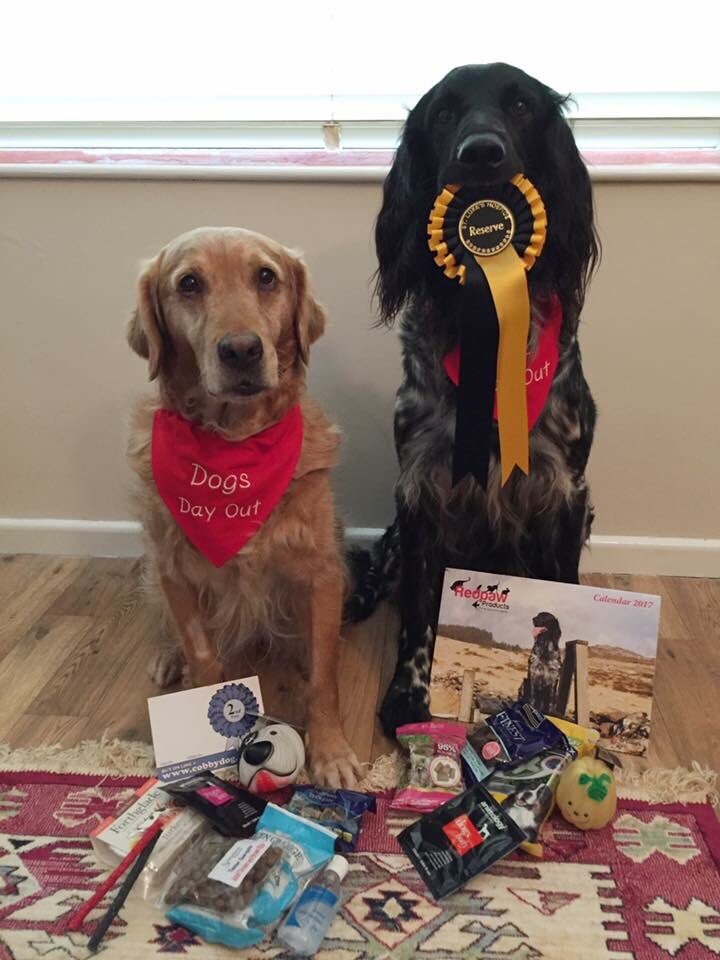 Rookie is the Calendar pin-up boy for the Redpaw Pet Supplies Calendar 2017, which is available to buy here - http://www.redpawpets.co.uk/?product=redpaw-2017-calendar-in-aid-of-st-lukes-hospice-plymouth - and all of the profits are going to St Luke's Plymouth! 
This is Rookie & the wonderful Sammie who made all of this happen! What an amazing lady! And a lovely photo of the both of them too.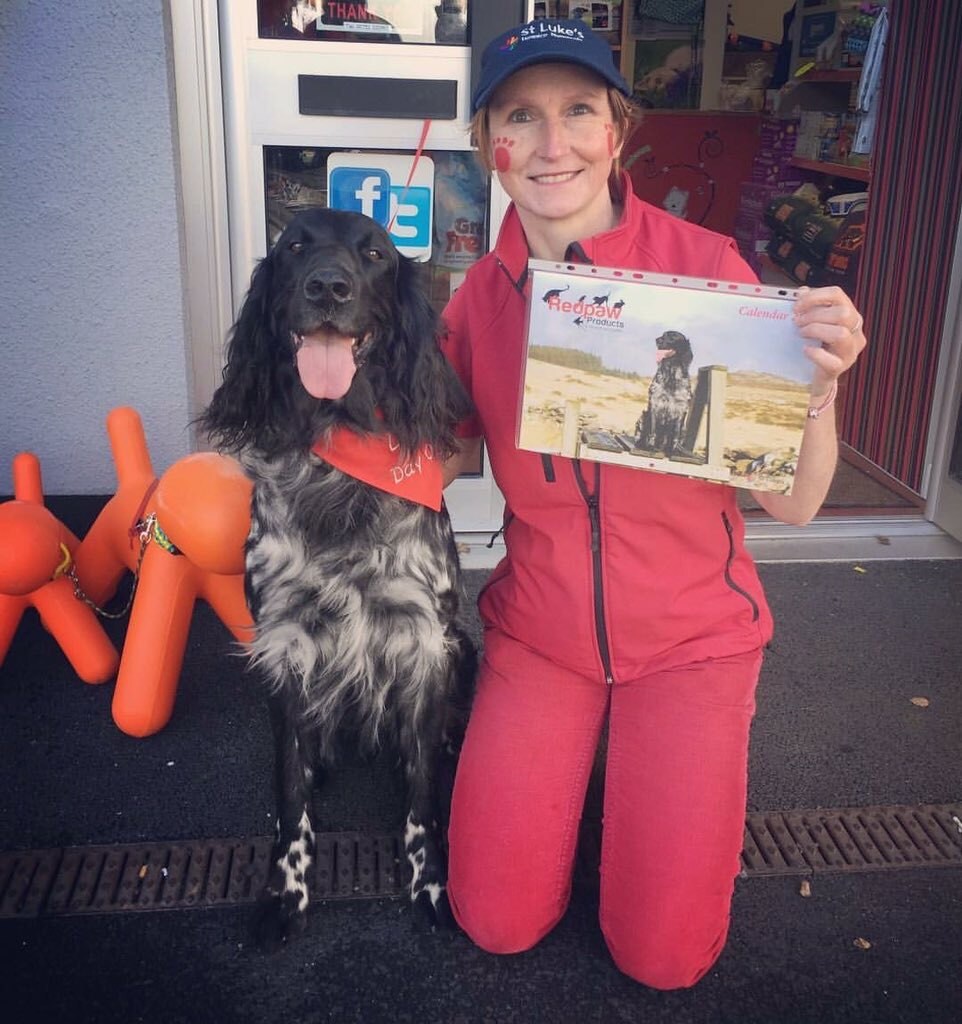 Rookie couldn't make it to the charity walk, but did manage to get to the fun show afterwards, and has brought some of the bandanas too! Rookie's owners have been in contact with us and said "The bandanas are super quality! We couldn't make it to the charity walk, but we had to buy some at the show, they are fab."  We've been in contact with Sammie, and although she doesn't know the final total of the amount of money raised for St Luke's, she thinks it will be around the £600 mark, which is AMAZING!
If you would like to contact us with regards to a chairty event that you are orgainsing, then please contact us via email - hotchpotchcrafts@hotmail.co.uk. We are happy to sponsor of your event. If you would like to order a personalised dog bandana for your dog, then please contact us on any forms of our contact information to discuss your order.
A HUGE thanks to Sammie of Redpaw Pet Supplies -  https://www.facebook.com/RedpawProducts/ - for allowing us to be a sponsor of the event.
St Luke's Plymouth - https://www.stlukes-hospice.org.uk/ - The charity that the event was in aid of.
Thanks for reading HC fans! Enjoy your week. Exciting blog post coming up next week too... Stay tuned for more infomation. Emily & Joan - Hotchpotch Crafts.